Here's a simple craft project for Autumn, a refillable knitted pumpkin that you can stuff with dried lavender buds and use as a wonderful scented room decoration. You can reuse your pumpkin year after year, just by replacing the lavender inside. The best part? This knitted pumpkin pattern is suitable for all knitting abilities.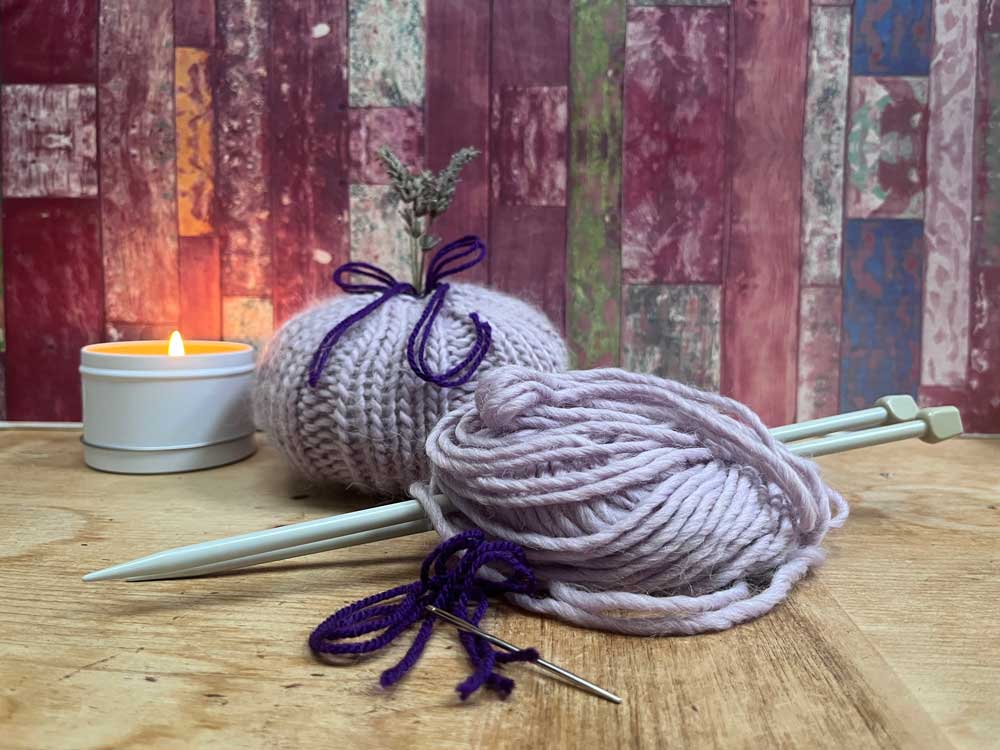 To knit your lavender pumpkin, you will need:
For the knitted pumpkin
Any super chunky yarn. We used an old ball of Rowan Polar alpaca wool in 'smirk' we had hanging around from a bygone project.
Stuffing
For the lavender sachet
Square of muslin fabric or similar, approx 6cm x 6cm, or use a fabric tea bag, ,or why not reuse an organza bag from jewellery you've been given
Dried lavender
Some cotton thread, any colour (if making your own lavender sachet)
For the stalk
A few stems of dried lavender, a cinnamon stick or a decorative twig
Equipment
Pair of Size 3 knitting needles (6.5mm)
Wool needle
Scissors
ABBREVIATIONS:
K: Knit
P: Purl
Method
We are going to create a simple ribbed square, as follows:
Cast on 42 stitches.
Row 1
(K4, P2), repeat stitches 1-6 to end of row
Row 2
(K2, P4), repeat stitches 1-6 to end of row
Rows 3-26
Repeat rows 1-2
Cast off.
To make up
Make your lavender sachet, by adding your dried lavender into the centre of your muslin square, gathering the corners together and securing by winding tightly with thread.
Now make up the pumpkin. Use a yarn needle and join the right and left edges of your square to make a tube. Using another piece of yarn, stitch a running stitch all the way around the bottom edge, and pull to gather the bottom together. Knot the ends of the yarn and hide on the inside.
Stuff with toy stuffing or similar and shape into a pumpkin shape. Add the lavender sachet. Use a contrast yarn or ribbon to sew a running stitch every 2cm or so around the top of the pumpkin. Pull the yarn tight, but before securing add your pumpkin stalk. We used a few stems of dried lavender as a stalk, but you could try a cinnamon stick or twig. Finally tie the yarn into a bow.  
Next year you will be able to untie the bow and replace the lavender sachet and stems with fresh ones.