Looking for an easy and quick craft project that combines cute bees and fragrant lavender? Then look no further, because we've designed a super simple and very cute knitted bee pattern that doubles as a lavender sachet.
Throughout May we're celebrating the wonderful bumble bee. Our native wild British bees (like bumble bees and solitary bees) are under threat, and we want to help change that.
We hope you love the humble bumble as much as we do – enough to make these tiny bees to hang in your wardrobe, scent your rooms, or even as a car freshener.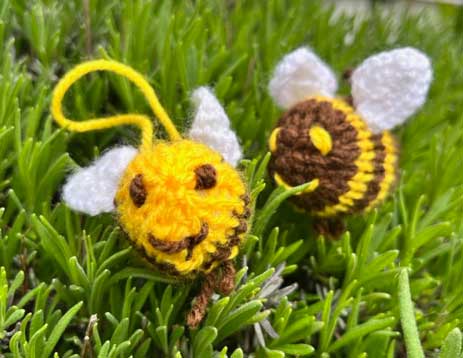 You will need:
For the bee body
Two colours of DK wool – 1) Black or brown; and 2) Yellow, gold or cream
For the lavender sachet
Square of muslin fabric or similar, approx 6cm x 6cm
Teaspoon of dried lavender
Some cotton thread, any colour
For the wings
DK wool – white or cream
Stuffing
Equipment
Pair of Size 10 knitting needles (3.25mm)
Wool needle
Scissors
ABBREVIATIONS:
STS: Stitches
KFB: Knit into the front and back of stitch
K2 tog: Knit two stitches together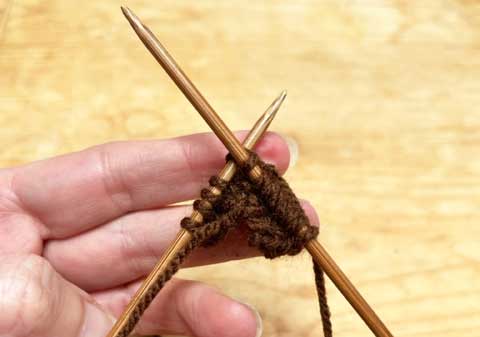 BODY AND HEAD:
Starting with Brown, cast on 7 STS (or use Yellow and swap the colours if you prefer the bee to have a yellow face)
Row 1: (WS): Purl
Row 2: K1, (KFB) to end (11 STS)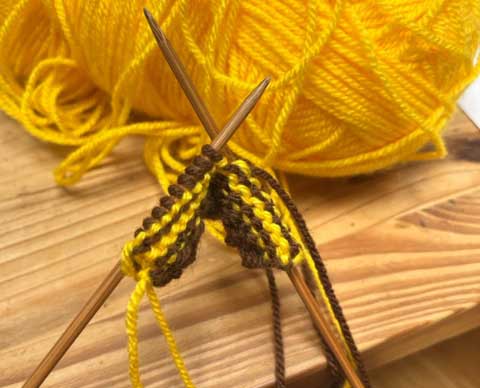 Rows 3 & 4: Repeat rows 1 and 2 (21 STS)
Row 5: Purl
Row 6: Join Yellow and K to end
Row 7: Purl
Row 8: Join Brown and K to end
Row 9: Purl
Rows 10-13: Repeat rows 6-9
Row 14: (K2 tog, K1) to end (14 STS)
Row 15: Purl
Row 16: K2 tog, (K1, K2 tog) to end (9 STS)
Thread yarn and pass needle through the remaining stitches, pull tight and secure. Use the remaining yarn to sew up the bee as far as the stripe nearest the head.
Now make the lavender sachet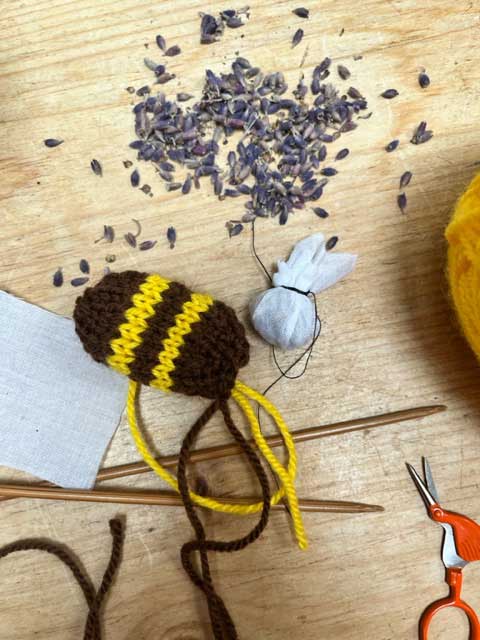 Place the lavender onto your muslin square and gather the corners together, and then pinch in the sides, forming a tight bundle around the lavender. Wrap cotton thread around the gather and pull tight, securing the ends with a knot.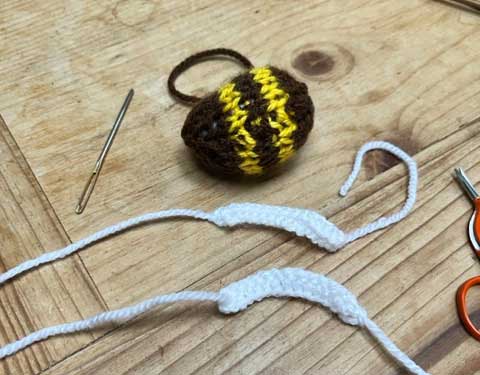 Place a tuft of stuffing into the bee, then add the lavender sachet. Fill the rest of the bee with stuffing, and finish sewing the seam.
Use any tails to make a hanging loop, legs and a face for your bee.
Wings
(Make 2)
Cast on 15 stitches in white. Cast off, then using your yarn needle, draw the tail through the stitches and secure tightly. Sew behind first stripe.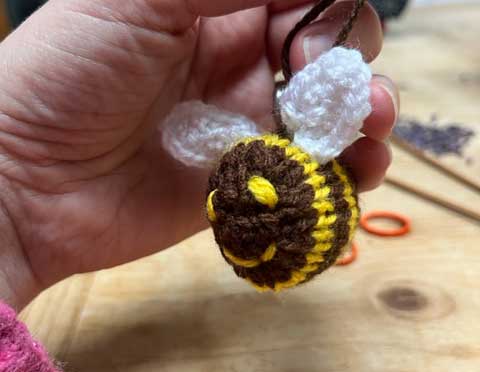 Once you've perfected the pattern, why not try knitting a few different types of bumble bee – red-tailed, buff-tailed or common carder bumble bees would be easy, just switch up the wool colours you use and copy a photo. Here's a great resource from the Bumble Bee Conservation Trust if you would like some inspiration.